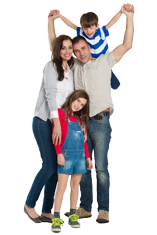 We are Standard Casualty Company, the leader in providing you with Fast, Fair and Friendly Claim Service. The primary reason you purchase mobile home insurance is for the protection of your financial assets in case of physical loss or damage to your manufactured or modular home and the personal belongings and property they protect. Why are we the leader? Just ask A.M. Best, a company that evaluates insurance companies, they've deemed our financial stability as "Excellent" for our financial strength and claims paying ability.
What makes us best is that we specialize in manufactured, factory built, and mobile home insurance, and we have an on-site staff with years of experience, which allows us to be fast and effective. We handled our entire hurricane Ike claims within 60 days while maintaining a 95% excellent rating by all claimants, if that's not fast, fair and friendly service, what is?
Experience = Faster Recovery
Our claims staff has the experience and training to assist you in promptly resolving your claim. Every member of our staff has been with us for 10 or more years, every single one! Our talented and dedicated Vice President of Underwriting and Claims, Terry DePhillips, has been with us for 30 years. Our adjusters settle over 80% of the losses they inspect on their very first visit, and maintain a 95% rating of excellence from our customers. This means quicker, easier, and more effective recovery for you, so you can get back to a normal life sooner, rather than later.
Fraud Hurts
Fraudulent claims cost all of us. We thoroughly investigate fraudulent claims and cooperate with the authorities on the prosecution of fraudulent claims. Fraudulent claims hurt you, the policyholder, because they unnecessarily push up the cost of items like premiums and deductibles. This is why our premiums and deductibles stay so low. We diligently investigate any and all such claims.
Claim Service
Our goal is to offer excellent claim service. To ensure that our claim service is Fast, Fair and Friendly, we encourage feedback from you, telling us how well we are doing. After all, we do work for you, a fact we never forget. This is why we've instituted our survey policy. We survey each and every claim we process so we can honestly assess our customer service department, and thus far it's been nearly unanimous, they're EXCELLENT!
Standard Casualty Company has the people to give you the service you expect. To request additional information, please contact us or call us at 1-800-522-0146.